Stillwater Health
2600 30th Street, Suite 200, Boulder, CO, 80301
Phone: (303) 545-5792
Chip: x106
Monika: x103
Fax: (303) 545-0030
NEW LOCATION: June 1!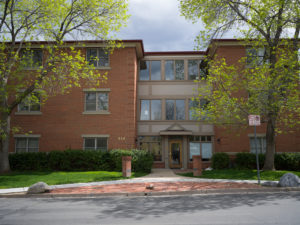 On June 1, we will begin seeing patients at our new location: 948 North St, Unit 6, Boulder CO 80304. The office is located on North Street between Broadway and 9th Street, just west of The Hungry Toad.
Current 30th Street Location
(we are moving on JUNE 1 to 948 North Street!)
Suite 200
Between Bluff and Steelyards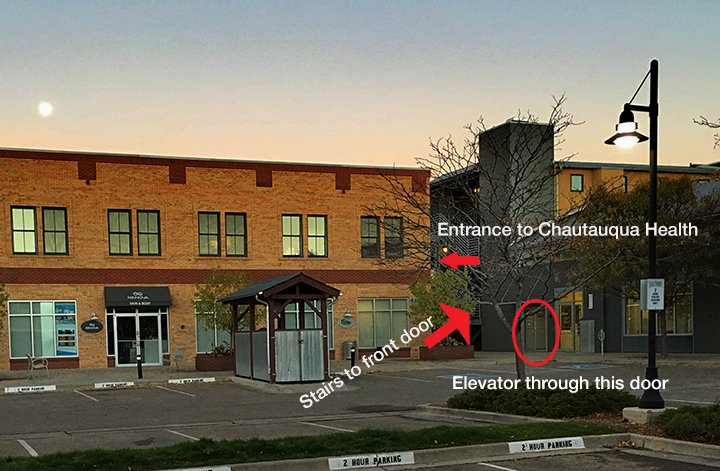 Directions
Driving
From the north: drive south on 30th St. to the next street south of Valmont. This is Bluff. Turn left/east on Bluff. Go 1 block to 31st. Turn right/south. Go 1 block to Steelyards. Turn right/west. Park in front of Rinnova.
From the south: drive north on 30th St., past Mapleton (on the left/west). There will be the "Boulder Steelyards" complex on the right. Pekoe is on the SE corner of 30/Steelyards Place and Rinnova is just north of it. Turn right/east on Steelyards Place in between these two businesses . Park in front of Rinnova.
From the parking lot: go to the building to the right/north that is for sale. Take either the stairs that are on the outside of the building, or the elevator that is located inside the glass doors to the left/west of the bank entrance. Go to the 2nd floor and across an exposed walkway that will take you south to our purple door that says Chautauqua Health.
Parking:
The parking spaces immediately in front of the building are 15 minute and handicapped spaces only. All the other spaces in the lot are 2 hour parking. The spaces on Steelyards are also 15 minute parking.
Bus/Bike:
The Bound goes along 30th St. and stops at Valmont. Walk south to Bluff and follow the directions from the parking lot as above. Please click here for more information on public transit in Boulder.
NEW LOCATION BEGINNING JUNE 1, 2018
948 North St., unit 6. There is parking in the garage behind the building that is suitable for small cars. Use the spaces marked "6" or "G" (G is for Guest). There is a pick-up/drop-off space directly in front of the building.
North St between 9th and 10th.
The Hungry Toad is on the SW corner of North and Broadway. The parking garage for the old hospital is 1 block north on Alpine